Elvis collections
From MTG Wiki
Collections are a feature within Elvis that allows users to compile materials from a variety of folders into one location. Collections can be shared via web link or email.
Creating a Collection
Drag-and-drop technique
If you have the Collection pane minimized on the right side of the window, click the arrow to the left of "Collections."
You should see this: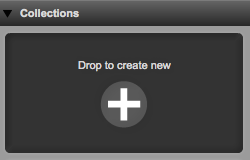 Select one or more images, then drag them into the zone depicted above.
Folder technique
Use browse to navigate to the folder that should house a Collection. Right-click, and select "Create Collection" from the drop-down menu.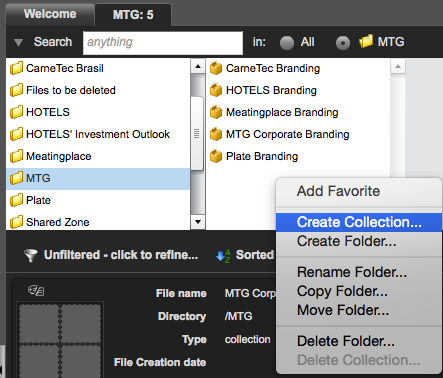 Note that Marketing collections are within a top-level folder called "MTG".
Activating a Collection
Regardless of the creation technique you use, a Collection must be activated to appear in the Collections pane.
To do that, click this button: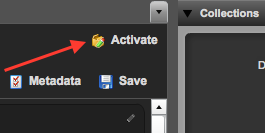 Adding content to a Collection
Ensure that the Collection is visible on the right side of the Elvis screen. (If it isn't, activate it as detailed above.)
Select the assets you'd like to add to the Collection, then do a drag-and-drop to put the assets onto the Collection in question.
Importing content into a Collection
Note that step three of the Import screen will allow you to add assets to a Collection as you import them into Elvis.
Removing content from a Collection
Right-click on an asset and select "Remove from Collection". (It's the second-to-last option.)
Sharing a Collection
Double-click in the black space around a Collection to open it. Select the assets you wish to share; if you select nothing, Elvis will assume you wish to share the entire Collection.
The Share button is directly above the tabs in the Elvis screen, next to the Check Out button. Click the Share button.
Steps two and three are the most important in the Share screen. Be sure to grant permissions for the link you will generate and specify when you'd like the link to expire.
When you're ready, click "Copy Link" to generate the link and copy it to your clipboard. From there, you can paste it into an email or browser window.