Add a recipe
From MTG Wiki
The process to add a recipe is very similar to that of adding an article.
A few key differences to remember:
Use the recipe article template. This template only has one component.
Be sure to use recipe statuses. (Note that any article created by Katie will automatically switch to the "recipe draft" status within five minutes of being checked in.)
Please use tabs between ingredient names and their amounts (just like the old system). This is very important for the web conversion process.
Recipes with subs
Sub-recipes now go in the same article and component as the main recipe—just be sure the sub's title, etc. is styled properly using paragraph styles.
Recipe meeting packets
This system will automatically generate recipe packets for you, combining all the individual recipes into one document that you'll get via email. Double-click the packet creator application on the home screen to start the process.
Reference images
Reference images will print in the packet if they are in the body of a recipe. To get them there, upload an image as usual (with the image in the same dossier as the recipe), then do the following:
Open the recipe in the Multi-Channel Text Editor.
Click images (next to the styles tab) to see all images in the dossier.
Grab the image and drop it into an appropriate place in the text.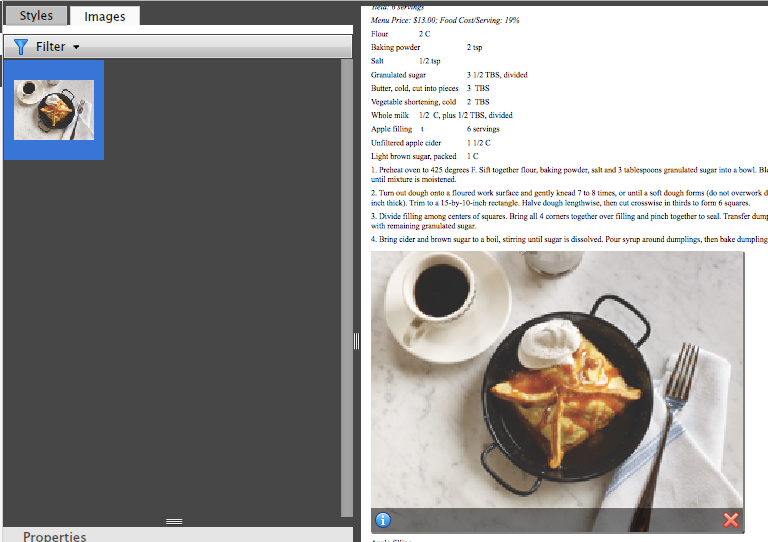 Ensure that reference pics have the appropriate status in Content Station and usage rights in Elvis, to ensure that we don't accidentally publish a reference photo.
Sharing reference photos with the studio
Select the images in Elvis (or create a collection and select all from there), and click "share" to generate a link to a web gallery. Be sure to give them download rights.